Middle loop: The truck leaves the lane and stops at the crash barrier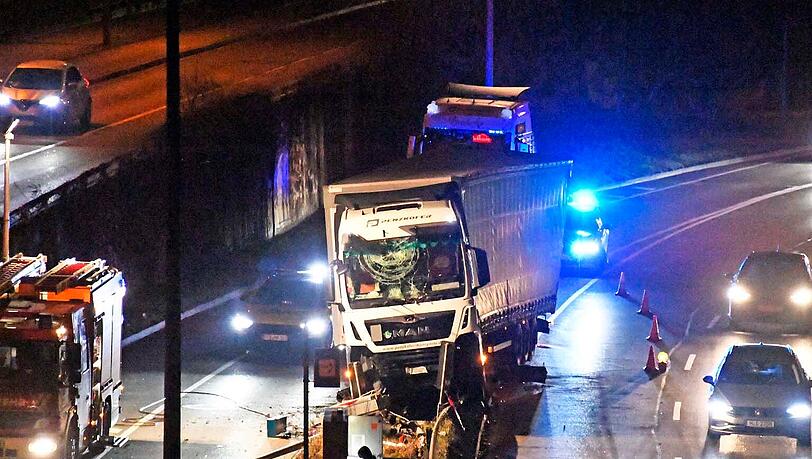 [ad_1]

Munich – An unusual accident occurred on Brudermühlstraße on Friday night (around 11 p.m.). As reported by the fire brigade, a 40-ton semi-trailer was driving east on Mittler Circuit.
The truck goes off the road and stays on the crash barrier
At the Brudermühl tunnel/Brudermühlstraße junction, the car left the road for reasons that are still unknown. The truck drove completely onto the track's barrier, burying a light pole and barrier system beneath it, and finally came to a stop at the crash barrier.
Sections of the Mettler Loop at the accident site had to be closed during rescue work. Due to the late hour, road traffic obstructions have been reduced. Due to the potential traffic hazard due to the lack of light pole and the sediment of the barrier, the fire brigade had to put traffic safety measures in place at about 3.43 am at the accident site.
The truck driver was not injured in the accident.
! function (f, b, e, v, n, t, s) { if (f.fbq) return; n = f.fbq = function () { n.callMethod? n.callMethod.apply(n, arguments): n.queue.push(arguments)}; if (!f._fbq) f._fbq = n; n. push = n; n. loaded =! 0; n.version = '2.0'; n. query =[]; t = b. createElement(e); t. async =! 0; t.src = v; s = b.getElementsByTagName (e)[0]; s.parentNode.insertBefore(t,s)}(window, document, 'script', 'https://connect.facebook.net/en_US/fbevents.js'); fbq('init', '2523508247947799'); fbq('track', 'PageView');

[ad_2]

Source link