Fire destroys homes in Illyfeld – the fire department stumbles upon death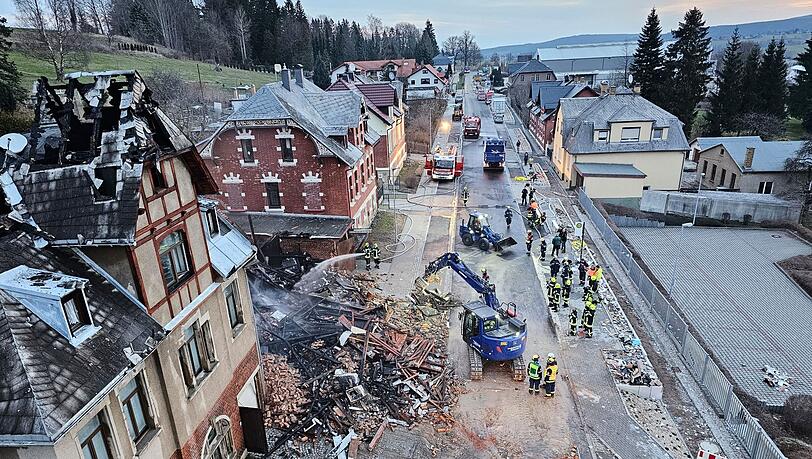 [ad_1]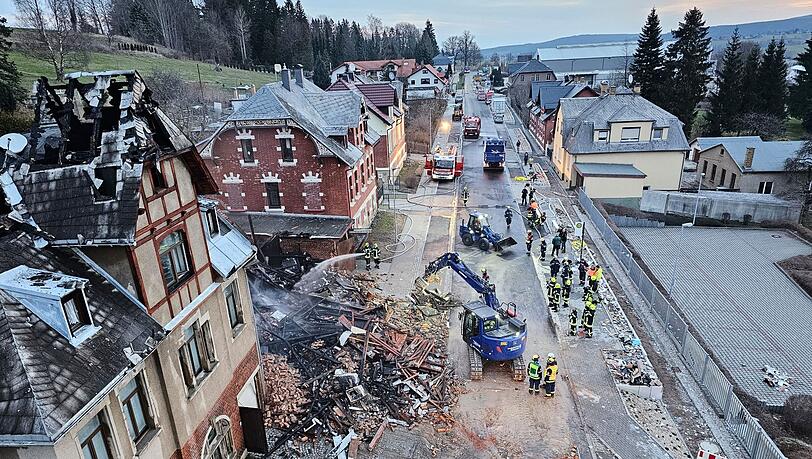 illfield
A fire destroyed an apartment building in the Saxon Vogtland district of Ilefeld (Vogtland region) on Sunday night and rendered another uninhabitable. The Zwickau police department said it was "completely burned out and no longer habitable".
A lifeless man was found under the rubble earlier today. The 67-year-old is said to be the owner of the house from which the fire broke out. A police spokeswoman said residents first noticed an explosion there in the middle of the night. An investigation is still underway into the cause of the fire.
About 100 firefighters took part in putting out the fire
high police One of the old terraced monolithic houses caught fire after the powerful explosion in the basement. Although several firefighting teams were quickly at the site, the flames spread to the house next door. Its inhabitants had abandoned it before. Nearby buildings have been evacuated, and electricity and gas supplies have been temporarily shut down. A total of 11 adults and one child were brought to safety. A police spokeswoman said the dead man was living alone in his home.
The extinguishing work, involving about 100 firefighters, lasted nearly four hours into the early morning. The house where the fire started has been destroyed and the other is in danger of collapsing. The police spokeswoman said its residents had lost their homes and stayed with neighbours. The total property damage is not yet known – the criminal police are investigating the case.

note: This report is part of an automated service provided by the German Press Agency (dpa), which operates under strict journalistic rules. It is not edited or vetted by AZ Online Editors. Questions and hints please feedback@az-muenchen.de

! function (f, b, e, v, n, t, s) { if (f.fbq) return; n = f.fbq = function () { n.callMethod? n.callMethod.apply(n, arguments): n.queue.push(arguments)}; if (!f._fbq) f._fbq = n; n. push = n; n. loaded =! 0; n.version = '2.0'; n. query =[]; t = b. createElement(e); t. async =! 0; t.src = v; s = b.getElementsByTagName (e)[0]; s.parentNode.insertBefore(t,s)}(window, document, 'script', 'https://connect.facebook.net/en_US/fbevents.js'); fbq('init', '2523508247947799'); fbq('track', 'PageView');

[ad_2]

Source link